PADI Discover Scuba Diving on Gili Islands Lombok Indonesia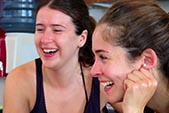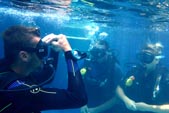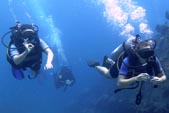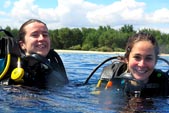 The PADI Discover Scuba Diver program is an amazing first experience as your first step in diving. If you want to try scuba diving, but aren't quite ready to take the plunge into a certification course, Discover Scuba Diving is for you. While not a scuba certification course, Discover Scuba Diving is a quick and easy introduction to what it takes to explore the underwater world. This program delivers you an immersing experience in the underwater world in just 3 hours.
We teach you very basics of the practical parts of diving, without going into detail about theory and technique; just enough for you to have comfortable understanding of breathing underwater. After a short briefing, you and your instructor will have an hour pool session with all the equipment to learn 4 basic skills. After the pool, you will go on an actual dive at one of our many dive sites in the Gili Islands to a maximum depth of 12 meters and maximum time of 1 hour under the direct supervision of your instructor.
What will you learn ?
How to breathe and move underwater
How to swim with fins
Discover beautiful marine life like turtles, Nemo, Dory…
The program is divided in 3 parts : Briefing / Confined water / Open Water Dive.
The Briefing
During the briefing, your instructor will explain the basics of the dive. It will provide you with all the information you need to be comfortable and answers to any questions you may have.
The Confined Water
In the swimming pool, your instructor will teach you a few basic skills and breathing techniques to ensure you are comfortable with the equipment.
The Open Water Dive
The open water dive is up to 1 hour to a maximum depth of 12 meters, under direct instructor supervision. We only work with small groups to make your experience as personal as possible.
The PADI Discover Scuba Diver program is not a certification program. It's an introduction to scuba diving after which you will not have a diving certification or licence.
Booking
In the dive industry, the booking has to be completed at least one day before the course. Diving is not too complicated, but it takes a lot of logistical support and organization. Each diver has to come in person in the dive center to complete the pre course paperwork and to receive the teaching material. With your instructor, we will explain your personal plan and how the course will be proceed.
How to continue?
If you want to continue you can do the Discover Scuba Dive 2 (DSD 2) which is the same procedure as the Discover Scuba Dive 1 (DSD 1), except that now you feel more comfortable underwater and you will enjoy more what is happening around you. Or you continue straight with the PADI Open Water Course.
Most of the people like it immediately so much that they continue with an PADI Open Water Course. Others start by directly taking an PADI Open Water Course. No matter which method you choose, the Gili islands with their large visibility, warm waters and calm environment are perfect and safe for beginners.