Our PADI Instructor Development Courses take place in the island of your choice: Bali or Lombok Gili Trawangan. At our PADI 5 Star IDC Resort, PADI Course Director Isabelle is dedicated to provide the best quality education in your PADI IDC. Learn in French, English or Spanish so you have the ability and confidence to dive into your new career.

DSM DIVE Lombok & Gili Trawangan and Atlantis International Bali give you the choice to do your PADI Instructor Development Course in the places following your desire: Bali, Lombok and Gili Trawangan. We hope that our service will not only surpass your expectations but your diving adventure with us will be amongst your most enjoyable and memorable from your PADI GoPRO Bali - Lombok - Gili Trawangan. Become Dive Instructor in Indonesia on the islands of Gili Trawangan, Lombok and Bali.

Our PADI Course Director Isabelle Fayos is Specialty Instructor Trainer with more than 10 specialties and EFR Instructor Trainer. She speaks English, Spanish and French fluently which gives you the possibility to enjoy her "International" classes. She teaches and trains to ensure that her students get 100% ready for their Instructor Examination (IE). She provides 10 sessions of Instructor Development Courses per year, ensuring quality and personalized service by limiting the number of candidates to eight per session.

You want to become PADI Open Water Scuba Dive Instructor (OWSI) but can't decide on which Indonesian island. With PADI IDC Bali Lombok we give you the choice between Bali, Lombok and Gili Trawangan. Take this advantage and get to know the most popular dive destinations in Indonesia.

Upgrade your IDC with some specialities and become a MSDT instructor: a graduation that will transform your life for a lifetime. Live the life you always wanted to: in and on the water.

Why IDC with us?
2 renowned dive centers

2 languages

3 islands

3 specialties included

500 Euro Voucher of Diving*

7 Days of Preparation

Free lunch, coffee, water, tea

Visa assistance
Free introduction to Sidemount
Profit from several workshops

Dedicated small and personal IDC groups
What will you learn?
7 Days of Knowledge Development to refresh the basic principles of scuba diving
Open Water Dives to use your skills and explore
PADI Standards and Procedures for courses you can teach with in water workshops
Learning, Instruction and the PADI System
Risk Management and Diver Safety
The Business of Diving and your role as an instructor
Marketing Diving and Sales Counseling
Schedule
Please visit our IDC websites at www.idcbaligili.com
---
Prerequisites
Be at least 18 years old
60 logged dives (with experience in night, deep and navigation)
Be certified as a Dive leader – PADI Divemaster (or equivalent)
Be a certified diver for at least 6 months
Submit proof of CPR within the last 24 months
Submit documentation of qualifying certifications
Submit medical declaration signed by a physician (form here)
Having a credit card
How to continue?
Become a PADI MSDT Instructor directly after the PADI Instructor Development Course IDC Bali Lombok. After you can continue your education in reaching the top of the top: Become a PADI Course Director.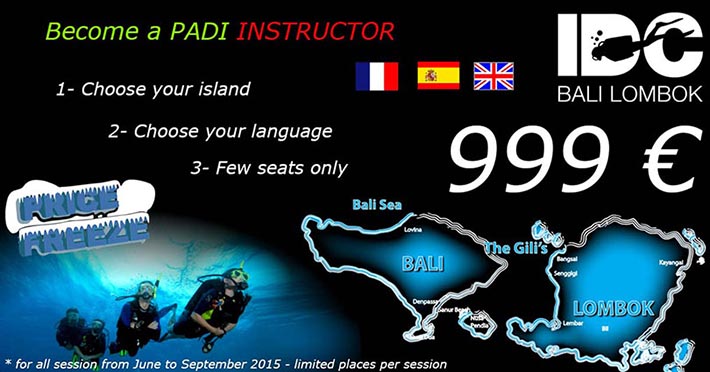 PADI Instructor Development
On Request
What we recommend to bring
All what you need to live on a tropical island
Certicfication card and Logbook
Personal diving gear
Credit card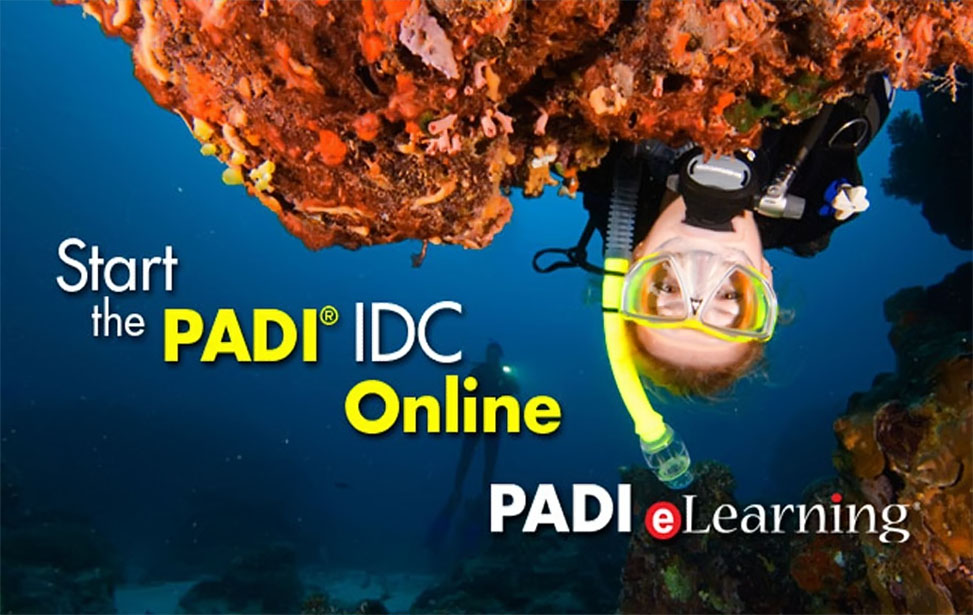 PADI IDC Course
PADI E-learning
If you are short on time and don't want to spend your precious holiday time studying? Learn the basics of scuba diving in theory already at home. This gives you the advantage of studying in your own time and pace. Of course you can still review and ask questions to your dive instructor once you are here. To do the PADI E-learning you have to register here, study, do the exam and show the results of the exam to your instructor.