PADI Bubblemaker on Gili Islands Lombok Indonesia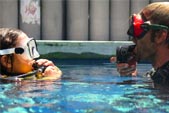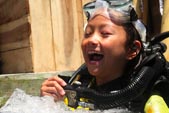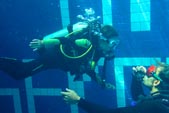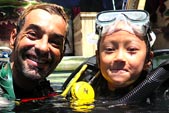 Bubblemaker is as fun as it sounds – a chance for kids to blow bubbles by scuba diving. Children who are at least 8 years old can use scuba gear to breathe underwater. Have a party or celebrate a birthday by throwing a memorable, exciting Bubblemaker event with friends and family. Your children will be with a professional PADI instructor who will introduce the scuba gear and explain how to breathe and move underwater. Under the supervision of the instructor your children will dive until 2 meters in a safe and calm environment so they can explore the fascinating underwater world with their own eyes.
A child must be 8 years old or older. Kids must be comfortable in the water, but no prior experience is necessary. Parental approval is required.
What will you learn ?
How to breathe and move underwater
How to swim with fins
Discover beautiful marine life like turtles, Nemo, Dory…
The program is divided in 2 parts : Briefing / Confined water.
The Briefing
During the briefing, The instructor will explain the basics of the dive. It will provide you with all the information your kid need to be comfortable and answers to any questions your kid may have.
The Confined Water
In the swimming pool or open sea protected area matching with the same condition of a swimming pool, the instructor will teach your kid a few basic skills and breathing techniques to ensure you are comfortable with the equipment. Your Kid will play and explore the underwater world in the same time.
"The Confined Water": confined water is a general term that refers to either a swimming pool or confined open water. A confined water is an area that offers swimming-pool-like condtions with respect of clarity, calmness and depht. For safety resaons and regarding the PADI Standards if the condition of the sea is not appropriate and do not match with the standards the Bubblemaker will be run in our swimming pool.
Booking
In the dive industry, the booking has to be completed at least one day before the course. Diving is not too complicated, but it takes a lot of logistical support and organization. Each diver has to come in person in the dive center to complete the pre course paperwork and to receive the teaching material. With your instructor, we will explain your personal plan and how the course will be proceed.
How to continue?
If you children liked the first Bubblemaker, they can continue with the Bubblemaker 2 which is the same procedure as the Bubblemaker 1, except that now they feel more comfortable underwater and will enjoy more what is happening around them. Or they continue straight with the PADI Junior Open Water Course, counting the bubblemaker 1 as a first Open Water dive.
No matter which method you choose, the Gili islands with their large visibility, warm waters and calm environment are perfect and safe for beginners and children.